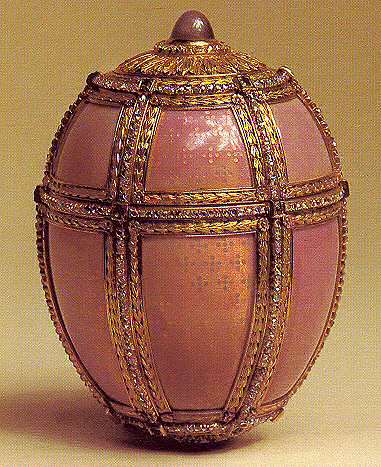 (Snowman, A. Kenneth. Carl Fabergé - Goldsmith to the Imperial Court of Russia, 1979, 95)
The Danish Palaces Egg is made of gold, enamel, diamonds, rose-cut diamonds, emeralds, sapphires and velvet lining. The surprise, the screen, is made of red, green, and quatre-couleur gold, and watercolor on mother of pearl.
A star sapphire within a cluster of diamonds surmounts this gold egg, enameled in a translucent pink. The egg opens to reveal a folding ten-panel screen, depicting palaces and residences in Russia and in Princess Dagmar's motherland Denmark. Maria Feodorovna was before her marriage to Alexander III in 1866, the Danish Princess Dagmar. The panels are painted by the court miniaturist Konstantin Krijitski and are signed and dated 1889.
The 10 panels depict from left to right, the Imperial yacht Polar Star, Bernsdorff Castle in Gentofte, the Emperors Villa in Fredensborg Park, Copenhagen, Amalienborg Palace, Copenhagen, Kronborg Castle near the city of Helsingør, two views of the Cottage Palace, Alexandria Park, Peterhof (Russia), Gatchina Palace, near St. Petersburg (Russia) and the Imperial yacht "Tsarevna".
This panel (third from left) depicts the "Kejserens Villa", the Cottage on the Fredensborg estate, bought by Alexander III in 1885.
Read more about the ten miniatures and see the actual buildings that were used for the little paintings: The Danish Palaces Eggs - The Miniatures Explained.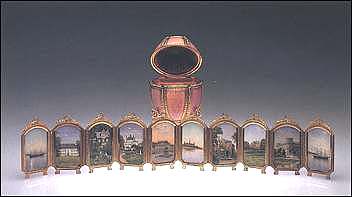 Background information
1930, one of the ten imperial Eggs sold by the Antikvariat to the Hammer Galleries, New York. 1937-1953 owned by Mr. & Mrs. Nicholas Ludwig, New York. 1962 Private Collection, United States. 1972 Matilda Geddings Gray foundation, New Orleans Museum of Art, Louisiana.

The Danish Palaces Egg, the miniatures explained.
A must-have for anyone interested in the mansions on this Egg:

Korneva, Galina and Tatiana Cheboksarova. Любимые резиденции императрицы Марии Федоровны в России и Дании - Empress Maria Feodorovna's Favorite Residences in Russia and in Denmark.
Profusely illustrated scholarly book depicting in detail the palaces known from the miniatures of Danish Palaces Egg. Three separate editions were published between 2006 and 2008 in Russian, English and Danish. (Courtesy Fabergé Research Site Newsletter Spring 2009).
Update 2013
The 1890 Danish Palaces Egg - Just a thought
Reading the book Russia & Europe Dynastic Ties by Galina Korneva and Tatiana Cheboksarova my eye fell on a photograph of the Marble Cathedral in Copenhagen, and my first thought was that the cathedral looked like the 1890 Danish Palaces Egg. Of course that could not be for the Danish Palaces Egg dates back to 1890 and the foundation stone for the cathedral was laid in 1749. I learned that after the Evangelical Lutheran church lay in ruins for many years due to lack of financing, and it finally opened to the public on August 19, 1894. Empress Marie Feodorovna was of Lutheran faith before she converted to Orthodoxy and must have known the church as it was located just west of Amalienborg Palace, home of the Danish Royal Family. Did Fabergé know about this Marble Cathedral being built too?
| | |
| --- | --- |
| | |
| 1894 Marble Cathedral (Courtesy Korneva and Cheboksarova, Russia & Europe Dynastic Ties, 2013) | |

1900 Paris Exposition Universelle

Next Egg

Previous Egg
page updated: April 21, 2017