Fabergé in the 21st century -Inspired by Fabergé 2
Fabergé History Timeline 1918 - 1937 | The Family Fabergé - The Four Sons
Fabergé Today (1937 - 2006) | The Family Fabergé Today - Tatiana -Theo and Sarah Fabergé | Brand name Fabergé
Inspired by Fabergé The Vivian Alexander Collection™ | Objects worldwide inspired by Fabergé
The Fabergé Style
Beautiful things are always copied, this is particularly true for the Fabergé Eggs. Eggs in the style of Fabergé are available in all sorts and colours, some more beautiful than the others. Some cost about ten Euros, others more than a thousand. Beauty is in the eye of the beholder, and tastes differ. But be aware that one can never buy a real original old Fabergé Egg through Internet! If you do want to buy real Fabergé, go to a well-known and distinguished dealer and read this article!
There are many, many examples of "Fabergé style". On this page I gathered a variety of objects sold worldwide. All images are linked to their respective websites. Below are the gifts sold in The State Hermitage Museum Online Shop. They include eggs, jewellery, clocks, etc.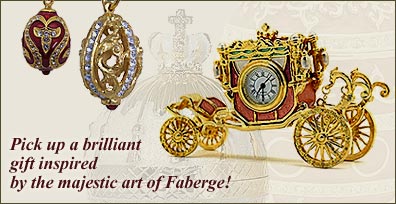 Click the above image to visit the museum shop and see more Fabergé style articles. Pictured below two items from the museum shop.
There are many, many more examples of "Fabergé style" articles. They can be fun, sometimes they are fun, and as long as you know what you are buying, there is nothing wrong with it.
Corrections, suggestions and comments are most welcome!

Miniature Fabergé Easter Eggs
Well, and where am I going to put the little real Fabergé Pendant Eggs? I just put an artice on Facebook that I would like to put on this site too...
The little pendant eggs of course are no Imperial Easter Eggs, but they are eggs and as egg-person, I have to tell you! There are still many genuine miniature Fabergé eggs around and auction houses quite frequently prsent them.
In case you are interested in these eggs, and think about collecting them, the next article is for you: http://www.jasper52.com/blog/a-beginners-guide-to-collecting-faberge-pendant-eggs/ written by Karen Kettering, Vice President at John Atzbach Antiques in Redmond, Washington. December 2016

Forgeries and Fakes - Fauxbergé Eggs
Page updated or corrected March 30, 2018