Once again, a warning about Fake Fabergé, "Fauxbergé' so called by Fabergé expert Géza von Habsburg. Although all Imperial Easter Eggs are accounted for, even the missing Eggs, from time to time I get inquiries about "a never before seen Fabergé Imperial Egg".
Forget it folks, unless you have found one of the missing Eggs, there are no Imperial Eggs to be found and if one IS found it will come up at an auction and realize many, many millions in Euros, Dollars or Pounds!
Images
Here below are some "Fabergé eggs" I found online earlier this month (November 2013) after I got another inquiry about "a truly remarkable Fabergé Egg, hidden in a vault for many, many years". Alas, it was a make-believe, again!


According to Sylvie Samani, some of the above eggs bear the marks of Mikhael Perkhin (1860-1903) and Julius Rappoport (1864-1916), well-known work masters of Faberge. Read what Peter Schaffer says about marks lower on this page!


Supposed Fabergé Marks on egg nr. 1 above.

Images above of eggs and marks, courtesy Sylvie Samani: http://sylviesamani.com/index_155.htm where you can find more images, including stamps and marks! Check out also the other pages of her article about "make-believe". There is a lot of info about styles, materials, "Imperial symbols" and much, much more!
-------------------
Another website, where you can compare the real versus the faux, is kfabergé.com from Steve Kirsch, below two "Imperial" Eggs from his website. Do read Steve's article on how How can you tell the real thing from the fakes?
As Steve concludes his article: Basically, collecting Fabergé requires money. Real "bargains" are virtually nonexistent. You are much better off saving for a single piece that may be expensive, but original, than trying to get something cheaply. It's far worse to purchase a piece that is a fake than to possibly overpay for something that is "right".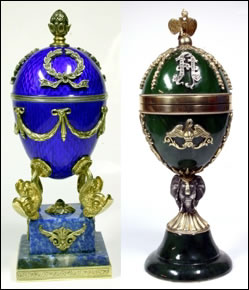 What does a fake sell for?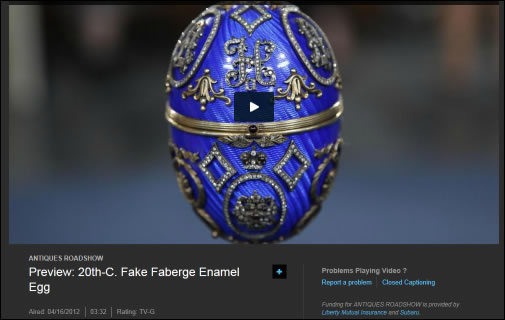 In the above YouTube movie of a 20th century Fake Fabergé Egg being examined by appraiser Sebastian Clarke on the Antique Roads Show, you can see that a lady paid $15,000 for the egg!!
About the marks
- Tips of the Trade - Peter Schaffer of ALVR on detecting Fabergé Fakes. Make sure you read the part about marks: "... collectors look to a piece's marks for verification. Bad idea, says Schaffer. Marks are now made with lasers that can trace a real Fabergé mark onto a fake piece. "You just can't trust them," he asserts."
So buyer beware!
aw November 2013

The Real Imperial Easter Eggs

Missing Imperial Easter Eggs

updated: May 7, 2016