Early Imperial Egg Exhibitions - 1937
"A $1,000,000 Worth of Easter Eggs"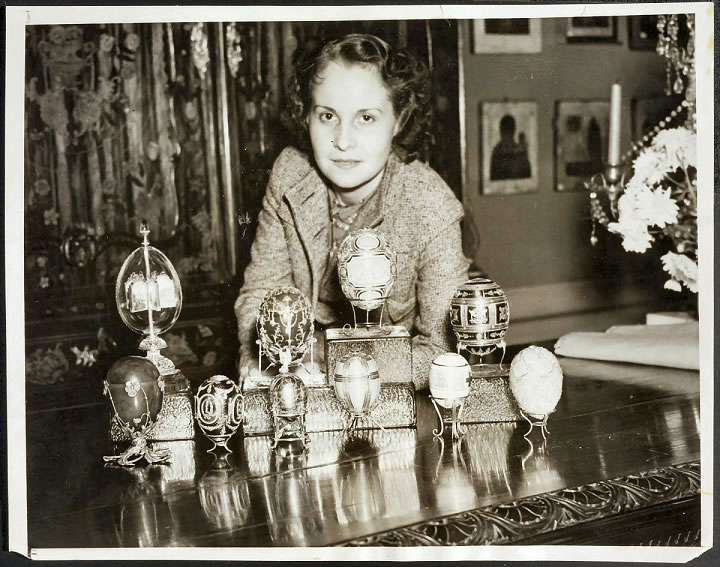 Ten Imperial Easter Eggs and an Unnamed Lady in 1937
(Lillian Thomas Pratt Personal Papers (SC-07). VMFA Archives, Richmond)
The photo above from Mrs Lilian Thomas Pratt personal papers shows ten Imperial Easter Eggs, now owned by various museums, foundations and private persons in the United States and Switzerland! The archives' downloadable aid says that the $1,000,000 Worth of Easter Eggs, were photographed together on November 22, 1937.
That is a fascinating date as it was the opening date of the Exhibition Фаберже Fabergé his works by the Hammer Galleries, Inc. in New York, held from November 22 to December 22, 1937. [1]
It was not known there existed photographs of the Exhibition, but yet here we see ten of the Imperial Easter Eggs exhibited, photographed on the opening day!
This exhibition was the first exhibition of Imperial Easter Eggs on American soil, although Armand Hammer and his brother Victor showed some of the Eggs they owned in department stores during the years 1932-1934. [2]
According to the catalog of the exhibition, on that November date the 1893 Caucasus Egg, the 1896 Egg with Revolving Miniatures, the 1899 Pansy Egg and the 1915 Red Cross Portraits Egg were still owned by the Hammer Galleries. The six other Eggs apparently already being sold (by Hammer) to various new owners. The exception here is the 1906 Swan Egg that was at the exhibition being owned by a Mr Charles Parson from London, who had bought it in 1933 from Wartski. Armand Hammer later (in 1939) on behalf of Mr Parson, sold the Swan Egg to Egyptian King Farouk.
The Eggs on the Photo: (*owned by Hammer Gallerlies)
1. 1893 Caucasus Egg - *
2. 1890 Danish Palaces
3. 1898 Pelican Egg
4. 1896 Egg with Revolving miniatures - *
5. 1899 Pansy Egg - *
6. 1906 Swan Egg
7. 1912 Napoleonic Egg
8. 1912 Tsarevich Egg
9. 1914 Catherine the Great Egg
10. 1915 Red Cross Portraits Egg - *
The catalog mentions an 11th Imperial Easter Egg, the 1894 Renaissance Egg though not marked by asterisks (*), indicating that the objects were not in possession of the Hammer Galleries, Inc. Why the Renaissance Egg is not on the photo is unknown.
Of the ten Eggs photographed, Mrs. Pratt in 1937 owned three. She later (ca. 1944) acquired the 1903 Peter the Great Egg from the Schaffer Galleries, now known as A La Vieille Russie and (ca. 1945) the 1896 Egg with Revolving Miniatures from Hammer Galleries.
Nine of the above Eggs, plus the 1894 Renaissance Egg, were acquired directly by Armand Hammer from the Sovjet Union. The 1906 Swan Egg was acquired by Emanuel Snowman (Wartski, UK).
Annemiek Wintraecken
December 14, 2016
[1] Hammer Galleries, Inc. Exhibition Catalog, Фаберже Fabergé his Works, 1937
[2] Lowes and McCanless, Fabergé Eggs A Retrospective Encyclopedia, 2001, 252

See also Fabergé Collectors for an overview of the Eggs bought by Mrs. Pratt, Armand Hammer and Emanuel Snowman.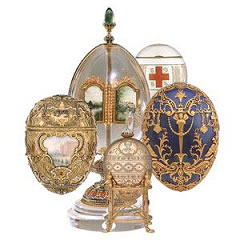 Mrs. Pratt's five Imperial Easter Eggs
(photo courtesy Richmond.com)
This page is part of a series of "Early Imperial Easter Egg Exhibitions". Other pages planned (!) are:
The 1900 Paris Exposition Universelle, France (New February 2017)
The 1902 Von Dervis Fabergé Exhibition of Objets d'Art and Miniatures, Saint Petersburg, Russia
The 1935 Exhibition of Russian Art, Belgrave Square, London, UK
The 1937 Hammer Exhibition Фаберже Fabergé His Works, New York, US (this page)
The 1939 Hammer Presentation of Imperial Russian Easter Gifts, New York, Palm Beach US
Page updated: February 10, 2017