Fabergé Eggs on Coins
Seeing how many coins there are with Fabergé Egg images, I think it is remarkable that, as far as I know, there is only one country that honored one of Fabergé's workmasters in 2012 with a Henrik Wigström commemorative coin, Finland!
Here it is!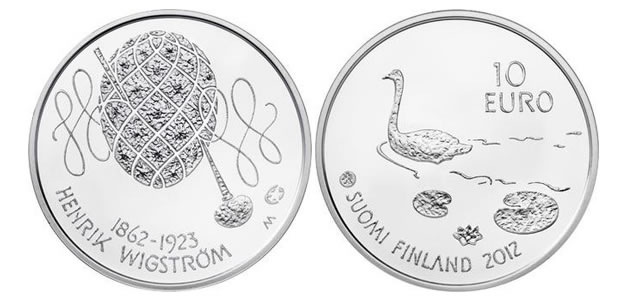 From to the website where you could order your copy of the above coin: "A celebration of the artistry of the Finnish goldsmith. Mint of Finland's Fabergé coin tells the story of a Finnish boy who became one of the most famous Fabergé workmasters in the world.
The obverse side of the goldsmiths' coin depicts an unfinished Easter egg and a graver. The reverse side of the collector coin depicts a swan, in homage to another example of Wigström's exquisite workmanship, the "Swan" Easter egg".
New in 2010 were Fabergé Easter Eggs on coins. There are of course the Fabergé Eggs on puzzles, calendars and mouse pads. And there are Eggs painted on dishes, Eggs printed on fabrics; there are Fabergé Eggs on almost every possible marketable item, but coins, like stamps are just a little different. I thought they deserved a page on this website, but as of 2016 I am not so sure anymore for there are just to many!
As far as I can tell, these coins are legal currency, but of course no one is going to buy a "Fabergé" coin to spend it. Collectors item is the term!
The Mint of Poland released a series of collector coins dedicated to Fabergé's Imperial Easter Eggs. The first coin from the series was the "Coronation Egg", followed by the "Lily of the Valley Egg".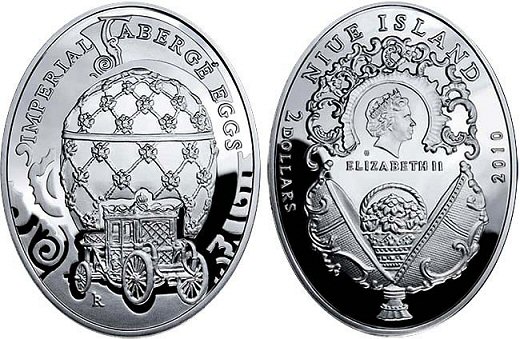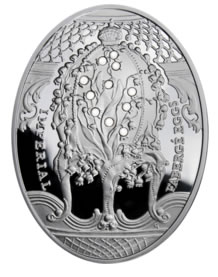 Presented by Niue Island and the Mint of Poland.
Courtesy: Mennica Polska and World Coins Collecting. (Links no longer valid)
Face value: 2 Dollars - Metal: Silver Ag 925 - Weight: 56.56 g - Size ellipse 41.6 x 55.6 mm - Quality: Proof - Mintage: up to 7,000 pcs. - Decoration Swarovski crystals - Issuer Niue Island - Year of issue 2010.
Coronation Egg: In the center – Coronation Egg from 1897 with a miniature coach, a replica of Catherine the Great's coach of 1793 which was used in the coronation procession of Tsar Nicholas II and Alexandra Fedorovna. At the the top – semicircular inscription – Imperial Fabergé Eggs. In the background – scroll matt ornament.
Lily of the Valley Egg: In the center – the image of "Lily of the Valley Egg" with pieces of chalk white crystals. On the left side of egg, inscription "Imperial". On the right side of egg, inscription "Fabergé Eggs".
Backs: At the bottom – open Spring Flowers Egg (1899-1903) with a miniature basket of wood anemones inside. Above – Niue Island's Coat of Arms with the inscription "Elizabeth II" below. Around the head – decorative neo-rococo scroll ornament. At the top – issuer's name: Niue Island. On the right – a nominal value of the coin, 2 dollars, on the left – year of issue: 2010. Courtesy: Mennica Polska
Cook Islands 2010 - Face value: 5 Dollars - Metal: Silver .999 - Weight: 20 g - Diameter: 30 x 43 mm - Quality: Proof - Mintage: 2,500 pcs. 2 of 3 includes 11 pieces of Bohemian crystals in 1 mm.
A Series of three Egg-shaped coins in the Fabergé style, decorated with finely cloisonné technique, a perfect blend of elegance and beauty, the enamel skillfully applied and enriched with Bohemian crystal.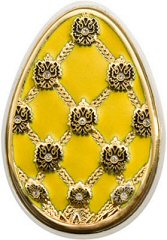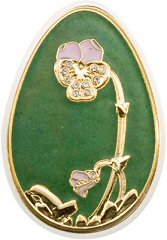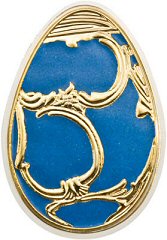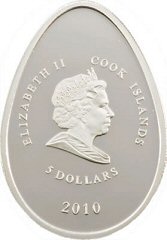 From left to right, Coronation Egg, Pansy Egg, a blue Egg and the reverse of all three coins. Courtesy: Fem Store ES
Many, many other coins featuring Fabergé Eggs are now (2016) on the market. Search Google or Ebay and you can see them all!
Below a quick Google search. Even the 1887 Third Imperial Egg is already on a coin!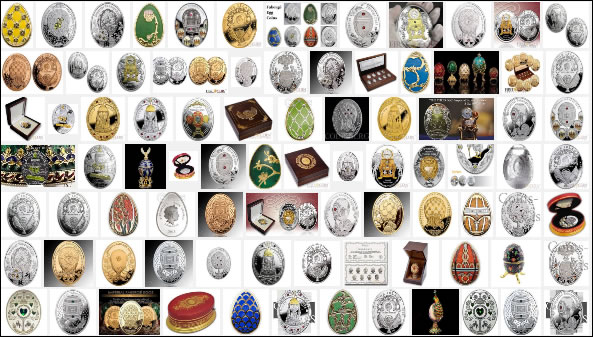 While browsing the Internet for Fabergé and coins, I found a page of the Yale University Library, Slavic and East European Collection - Coins and Medals of Imperial Russia: Alexander II. Although this has nothing to do with Fabergé Eggs, I thought I should show the "coin" here.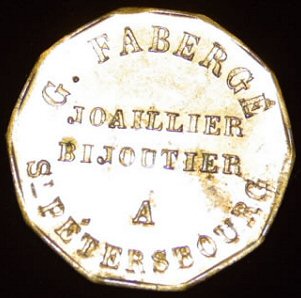 Courtesy: Yale University Library, Slavic and East European Collection
The French text on the coin reads: G. Fabergé, jeweler bijouterie at St. Petersburg. Grande Morskoy at the square of the Kirpitschnaja Nr. 18, House Rouadze.
I later learned that these coins were given to Fabergé clients when they brought in items for repair. When coming to get their items, they were to hand in the coin.
.....
Update January 2019. Most links on this page are unfortunately no longer valid.
aw July 2010
Page updated: January 8, 2019