Gift Nicholas II to Alexandra Feodorovna
Made in Saint Petersburg
Owner: Kremlin Armoury Museum, Moscow
Height: 15,3 cm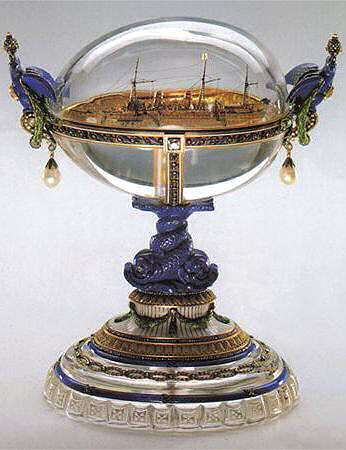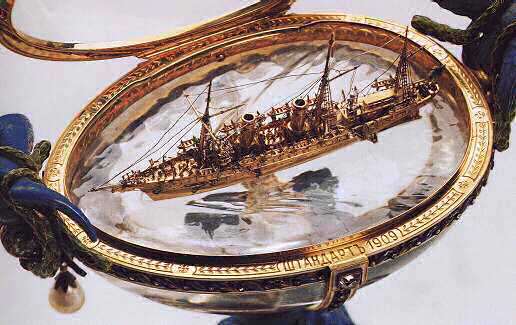 The 1909 Standart Egg, also known as Standart Yacht Egg, is made of gold, diamonds, rose-cut diamonds, pearls, lapis lazuli, rock crystal and green and white enamel. The miniature yacht is made of gold, platinum and enamel.
The crystal Egg is horizontally mounted in gold and bears the inscription "Standart 1909" on the edge of the mount. A gold band, with inlaid leaves of green enamel and small diamonds, lines the perimeter of the egg. The bottom half of the Egg is decorated with a vertical gold band with inlaid designs. A crowned eagle of lapis lazuli is perched on either side of the Egg; a pear-shaped pearl hangs from each of them. The shaft consists of two lapis lazuli dolphins with intertwined tails. The oval base is of rock crystal with a wide band of white enamel inlaid with laurel garlands and bands of small diamonds with laurel branches in green enamel. An exact replica in gold of the yacht Standart rests inside the Egg on an oval base of rock crystal representing the sea.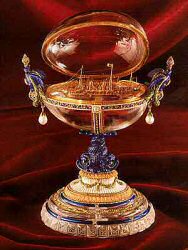 Background information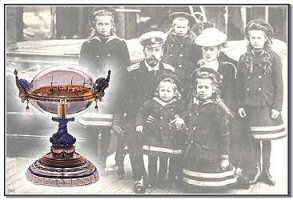 The ca. 5,500 ton yacht Standart was commissioned by Alexander III in Copenhagen. It was first launched in 1895 and was 116 meters long, making it the largest yacht in the world at that time. It had thirty rooms, and a stable for a cow to ensure the imperial children of fresh milk! The yacht took the imperial family on frequent sorties along the Baltic and the Finnish coasts.
The 1909 Standart Egg was never sold and is one of the ten Imperial Easter Eggs in the Kremlin Armoury Museum in Moscow.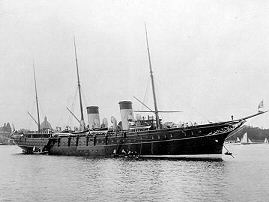 The Russian Imperial Yacht Standart
Photo courtesy: The Russian Imperial Yacht Standart (great site!)
Update February 2015
A very nice movie of a virtual reconstructed Standart can be seen here: http://youtu.be/i5MPb21B_3I.
This demo represents interactive virtual reconstruction, developed by FORCE Technology Rusland for the 300 anniversary of St. Petersburg Central Navy Museum, giving a glimpse of the Imperial Yacht Standart history. (Couresy Fabergé Research Site, Newsletter Winter 2014-2015)

Next Egg

Previous Egg
Page updated: April 2, 2016