ca. 1885 - 1891 Blue Enamel Ribbed Egg
Gift ?
Made in Saint Petersburg
Owner: Estate of the late Stavros S. Niarchos, Paris
Height: 11 cm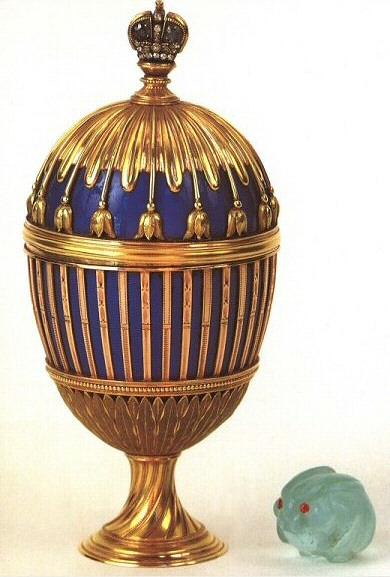 The Blue Enamel Ribbed egg is made of green, red and yellow gold, sapphires, diamonds and translucent royal blue enamel. The miniature rabbit is made of aquamarine* and rubies.
In three colors gold and enameled translucent royal blue, the Egg is surmounted by an Imperial crown, set with faceted sapphires and diamonds. The egg rests on a swirled gold pedestal that fans out into a cup like formation of acanthus leaves.
The Egg now contains a small aquamarine rabbit set with ruby eyes. Probably the original surprise was made of moonstone.
While the body of this Egg is by Fabergé, there are doubts about the Imperial crown and the rabbit surprise. It is suspected that the Egg as it is today is much changed from its original appearance.
Hallmarks put the year of production in the six year span, approximately 1885 - 1891. 1921 bought by Alexander Tillander, a Finnish Jeweler. 1924 sold to a Mr. Popper in Budapest. In 1953 the Hammer Galleries, New York. 1962 Collection Stavros S. Niarchos, Paris, 1996, Estate of the late Stavros S. Niarchos, Paris.
Fabergé scholar Dr. Tillander-Godenhielm compares this egg with the 18th century egg-shaped wine glasses, now in the State Hermitage. [1]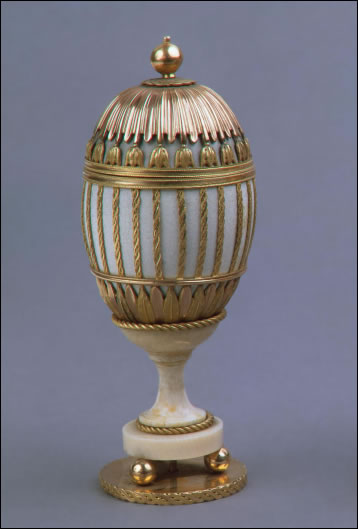 (Wineglass Shaped Like an Egg - coutresy Hermitage Museum)
* Most Fabergé books state the rabbit is made of agate and rubies. However examination of the rabbit during the 1989-1990 San Diego Fabergé exhibition the rabbit proved it to be made of aquamarine. (The 2003 German version of the exhibition catalog mentions aquamarine). Thanks Tim Adams for your observations!
[1] Fabergé ja hänen suomalaiset mestarinsa (Fabergé and His Finnish Workmasters), 2008, 93.

Back to the Eggs
page updated: November 12, 2018