Lapis Lazuli (Hen) Egg
Gift: Unknown
Made: in Saint Petersburg
Owner: The Cleveland Museum of Art, USA
The India Early Minshall Collection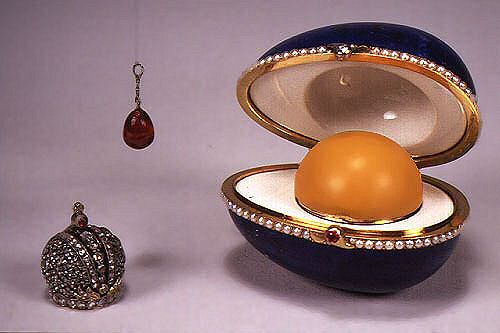 The Lapis Lazuli (Hen) Egg is made of lapis lazuli, gold, blue, white and yellow enamel, pearls, rubies and diamonds. For a long time it was assumed that this beautiful Egg was one of the Imperial Easter Eggs. Research however, proved that there is no place for this Egg in the series of Imperial Easter Eggs. The Egg has no visible Fabergé markings.
The Lapis Lazuli Egg is very equal to the 1898 Kelch Hen Egg.
Not much is known about the backgrounds of this Egg. Maybe it was made for one of the other members of the Imperial Family and maybe the future shall place this Egg in the category "Imperial Eggs".
In what year India Early Minshall acquired this Egg is not known. In the 1930's there were five major American Fabergé collectors, of which India Early Minshall was one. She acquired this Lapis Lazuli Egg and the 1915 Imperial Red Cross Triptych Egg.
See also Forum Photos for this Egg on view in San Francisco 2009!
Update 2021
After thoroughly researching both the !895 Rosebud Egg and the undated Lapis Lazuli Egg, Chad Solon (Cleveland, USA) is convinced that the surprise to the Lapis Lazuli Egg, in fact belongs to the 1895 Rosebud Egg!
In a recent article: The Lapis Lazuli Egg in the Cleveland Museum of Art, published in The Burlington Magazine, September 2021 (Paywall), Mr. Solon explains his theory. The article is illustrated with beautiful images of both Eggs and and the surprise!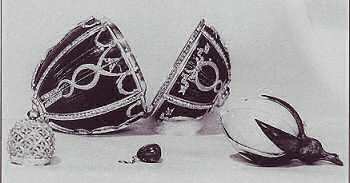 Imperial Rosebud Egg with all three surprises.
Snowman, A. Kenneth, the Art of Carl Fabergé, 1953, plate 325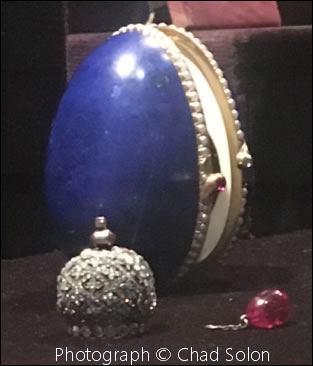 Photograph made and copyright by Chad Solon.

Back to the Eggs
page updated: September 16, 2021