1892 Diamond Trellis Egg
1892 Diamanten Hekwerk Ei
Gift van Alexander III aan Maria Feodorovna
Gemaakt in Sint Petersburg
Eigenaar: McFerrin Collectie, Houston, USA
Hoogte: 10,8 cm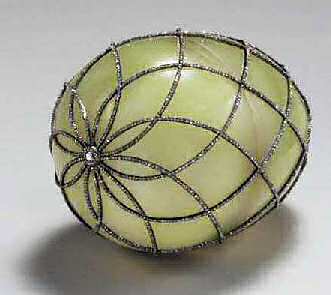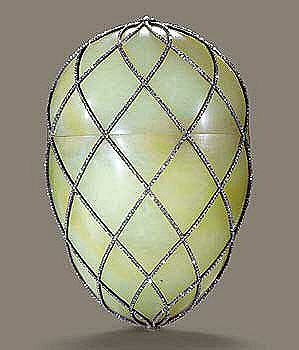 |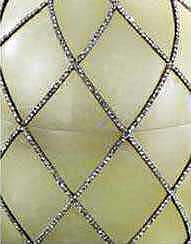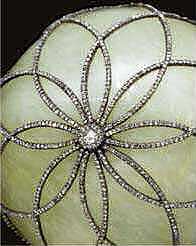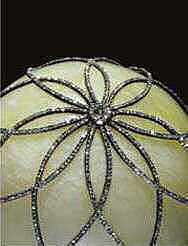 Het Diamond Trellis Egg is gemaakt van goud, platina, zilver en "bowenite" (een lichtgekleurde, bijna doorzichtige steensoort die een beetje lijkt op jade, ook jadeite genoemd), rijk gedecoreerd met diamanten. Boven en onder op het Ei een grote diamant, met elkaar verbonden door een vlechtwerk van diamantjes, gezet in zilver en platina. De oorspronkelijke basis voor dit Ei bestond uit een stuk bowenite met daarop 3 zilveren engeltjes die het Ei omhoog hielden. Deze drie engeltjes stelden de drie zonen van het Tsaren echtpaar voor, Groothertog Nicholas (later Tsaar Nicholas II), Groothertog George en Groothertog Michael.
Het maken van zo'n Ei duurde meestal bijna een vol jaar. Het werk eraan startte meteen na Pasen en het was pas klaar in de Heilige Week van het daaropvolgende jaar. Meestal werden de Eieren aan de Tsaar zelf overhandigd door het hoofd van de Firma Fabergé op Goede Vrijdag.
De verassing van dit Ei is een gemechaniseerde olifant die met een sleuteltje opgedraaid kon worden en dan gaat lopen.
De binnenkant van het Ei is bekleed met wit satijn en daarin is een ruimte om het olifantje en het sleuteltje op te bergen. Het ivoren olifantje was gedeeltelijk geëmailleerd, met diamanten op de rug, en een grote edelsteen op zijn voorhoofd. Op de olifant zelf zat een zwart gekleurd mannetje als olifanten begeleider.
Achtergronden bij dit Ei
Het thema "olifant" is verschillende keren gebruikt in de Keizerlijke Eieren. De olifant komt voor op het privé wapen van de Deense Koninklijke Familie, en Maria was een Deense Prinses (voor haar huwelijk Prinses Dagmar).
Dit Ei is rond 1927 vanuit de Armoury verkocht aan een buitenlandse verzamelaar. In 1960 geveild door Sotheby's in Londen en gekocht door een agent uit naam van een cliënt die onbekend wenste te blijven. Vanaf 1983 bevond het Ei zich gedurende bijna dertig jaar in een privé collectie in Londen. Begin 2012 is het aangekocht door de McFerrin Collectie in Houston, USA die het 1 februari 2013 tentoon zal stellen.
Zes (voor zover bekend) Fabergé Eieren hadden een soortgelijk mechaniekje als verrassing. Dat zijn naast het 1890 Diamond Trellis Egg, het 1906 Swan Egg, het 1908 Peacock Egg, het 1911 Bay Tree Egg, het 1914 Catherine the Great Egg en het 1900 Kelch Pine Cone Egg. De verrassing uit het Diamond Trellis Egg moet geleken hebben op die in het "Pine Cone Egg", in 1900 gemaakt voor Barbara Kelch. Dat Ei, met verrassing, kun je hier zien.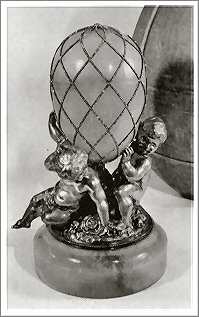 Het Diamond Trellis Egg met de oorspronkelijke basis.
Rechts nog net zichtbaar, de originele geschenkcassette.
Foto met dank aan Laurent!
Update october 2015:
Aangekondigd werd dat de surprise van het 1892 Diamond Trellis Egg was gevonden in de Royal Collection in London. Curator van de Royal Collection, Caroline de Guitaut, maakte het nieuws bekend in Sint Petersburg, Russia, in het Fabergé Museum.
Klaarblijkelijk werden de Fabergé merktekens op het kleine olifantje pas onlangs ontdekt en werd de link gelegd tussen de vermiste olifant uit het Ei en dit olifantje. Details en plaatjes van de vondst zie je in de presentatie van de curator. Haar verhaal over het Diamond Trellis Ei begint op 52.07 miniuten van de video presentatie.
Beschrijving olifant van de the Royal Collection webpage:
Deze automaton was gemaakt als surprise voor het Diamond Trellis Egg, gemaakt door Carl Fabergé voor Tsaar Alexander III. De Tsaar presenteerde het Ei aan zijn echtgenote Tsarina Marie Feodorovna met Pasen 1892. Het Ei had oorspronkelijk een zilveren standaard (nu vermist) en was uitgevoerd met een voering om de ivoren olifant automaton met sleuteltje in te herbergen. De automaton is beschreven op Fabergé's originele faktuur en in een inventaris van Keizerlijke Paaseieren gemaakt door Fabergé in de collectie van Marie Feodorovna. De automaton is vrijwel identiek aan het insigne van de Deense Order van de Olifant, de belangrijkste ridderorde in Denemarken, behalve dan dat hij is gemaakt van ivoor in plaats van wit emaile, en een mechanisme heeft. De olifant wordt opgewonden met een sleuteltje door een verborgen sleutelgat onder het diamenten kruis aan een zijde van de olifant. Hij loopt op wieltjes en schudt zijn hoofd op en neer.
Material: Ivoor, goud, diamand, koper, nikkel

Gepresenteerd aan Tsarina Marie Feodorovna door Tsaar Alexander III van Rusland, Pasen 1892; verkocht door de Soviet Regering door middel van het Antikvariat, laat 1920-ger jaren Russia, bij dealer Wartski ca. 1927-9. Aangeschaft door Koning George V, 1935.
Royal Collection Trust / © HM Queen Elizabeth II 2015 (vertaling aw)
De Olifant Surprise (Courtesy the
Royal Collection
)
Om te zien hoe klein en delicaat de olifant is en te zien hoe hij beweegt, kijk naar dit kleine filmpje op Vimeo! Courtesy my friend Juan!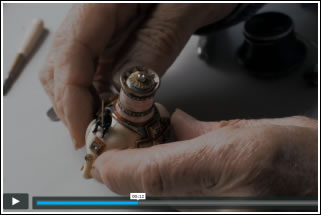 Update October 19: Russia Beyond the Headlines article about the discovery of the elephant.
Update October 20: Fabergé Museum online article about the discovery of the elephant.
--- Gebruik Google translate om onderstaand artikel te vertalen!
Artikel en plaatjes met dank aan Fabergé Research Site. Artikel eerst geplubliceerd in de Fabergé Research Newsletter, Spring 2015.
Identifying Materials Used by Fabergé - By Tim Adams and Carol Aiken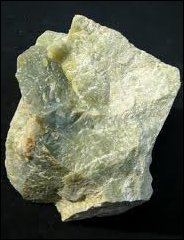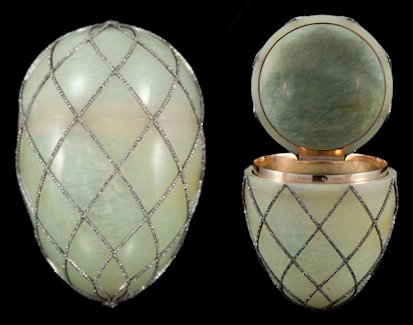 Bowenite from an Asbestos Mine, Warren County, New York (Wiki)
-
1892 Diamond Trellis Egg (Courtesy McFerrin Collection, Houston, Texas)
The correct identification of materials in Fabergé pieces is not always an easy task. Historical information is not at all times absolute or accurate, and descriptions are very often based on assumptions, incomplete information, or conscious embellishment. A question about gem and mineral identifications of Fabergé objects recently came up in conversations about the shell of the Diamond Trellis Egg in the McFerrin Collection, specifically whether it is jadeite or bowenite. One way of testing the material is by spectroscopic analysis, which determines the chemical or physical constitution of the stone. But this type of testing is rarely done, even to the highest profile Fabergé objects.
Art conservator Carol Aiken observed:
"Unfortunately, specialist gemologists or mineralogists are rarely consulted to identify or confirm most of the descriptions found in publications. For this reason, one generally should assume materials lists are at best descriptive and not absolutely accurate, unless evidence (specific type of analysis used, when and where it was done, proof of certification) has been provided to the contrary."
She continued:
"The identification of metals can be as tricky as the gemstones. Some gold surfaces are plated and gold is generally alloyed with other metals. To be absolutely correct, making distinctions between vermeil (gold-plated silver) and ormolu (gold-plated bronze) is important, as is the recognition of the different colors of gold found in specific objects."
Mineralogist James D. Dana in 1850 named bowenite after George T. Bowen (1803-1828), a chemist and mineralogist teaching at the University of Nashville, Tennessee. Bowen first discovered this member of the serpentine mineral family in Rhode Island, where it is now the state mineral. It can be identified not only spectroscopically, but can be differentiated from the two types of true jade, nephrite and jadeite, by measuring its specific gravity - bowenite is 2.6, nephrite 3.0, and jadeite 3.3.
Archival records, such as invoices, sales logs, or personal letters, would seem to be a reliable source for information on what stones or metal were used in creating a Fabergé object, but they can be misleading. Mistakes creep in when sales log entries are made in haste, or just the color of a stone is recorded, or some materials are left out completely. And in the case of bowenite, Fabergé did not use the term in his invoices, but generally referred to stones from the serpentine family as jadeite, which it very much resembles, so much so that the materials were often used interchangeably. In answer to the question initiating this discussion, the shell of the Diamond Trellis Egg is identified by the Houston Museum of Natural Science as bowenite.
Another common issue in the Fabergé invoices is a liberal use of the term "topaz" to refer to stones in the quartz family. Perhaps it was seen as a more elegant and marketable term, so "smoky quartz" became "smoky topaz", and "citrine quartz" became "golden topaz", etc. Of course, product enhancement has been a common practice in the advertising world for centuries, but it can be a source of confusion, too. As long as one understands these anomalies of fact exist, one can approach material identification more objectively.
Carol Aiken's publicaties met betrekking tot dit topic omvatten:
"Imperial Easter Eggs: A Technical Study" in von Habsburg, Géza, and Marina Lopato, editors, Fabergé: Imperial Jeweler, 1993, 76-83.
"The Many Golds of Fabergé" in Gilded Metals: History, Technology and Conservation, Terry Drayman-Weisser, editor, 2000, 297-306.
"Mrs. Pratt's Imperial Easter Eggs" in von Habsburg, Géza, et al., Fabergé Revealed at the Virginia Museum of Fine Arts, 2011, 88-101.
Update Maart 2017: Dit lijkt een nieuwer filmpje over de olifant, prachtige beelden!

Volgend Ei

Vorig Ei
page updated: March 21, 2017