Gift Nicholas II to Alexandra Feodorovna
Made in Saint Petersburg
Owner: Queen Elizabeth II, UK
Height: 23 cm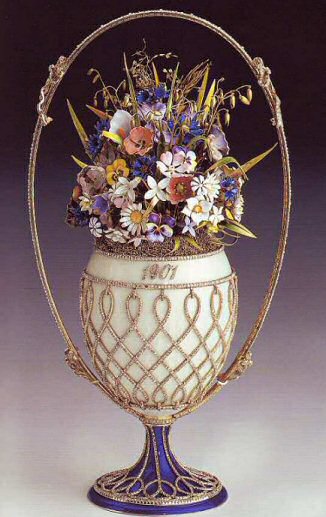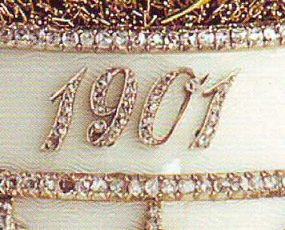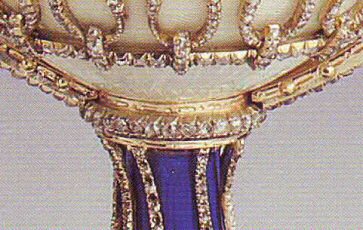 The 1901 Flower Basket Egg, also known as Basket of Wild Flowers Egg, is made of silver, parcel-gilt, opalescent oyster and (later) dark blue enamel, rose-cut diamonds, green gold, and opaque multicolored enamels for the flowers.
In the form of a flower basket, this silver Egg's body is covered with opalescent oyster enamel and applied with a trellis-work in rose-cut diamonds. The date, 1901, is also in rose-cut diamonds. The foot of this egg is now dark blue enamel. A beautiful composition of wildflowers sits in green gold thread moss. The flowers are made of gold and are covered with a variety of colors of enamel, including pink, white, dark-blue, orange and mauve. The basket is finished with a diamond-set handle.
An old photograph (1902) exists on which the entire body of this Egg was white enamel. It is assumed that the foot was restored after the Russian Revolution and changed from white to dark-blue. It is not known if there was a surprise with this Egg. The original Fabergé invoice mentions "pearls" and since there are no pearls on the Egg, they probably were connected to the surprise. A broche or a string of pearls perhaps in some way attached to the Egg?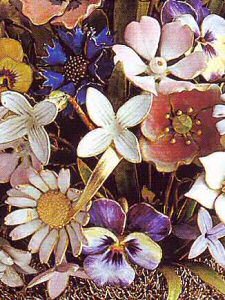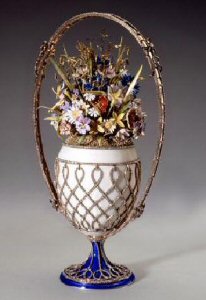 Background information
In 1933 the Basket of Flowers Egg was sold by the Antikvariat to an unrecorded buyer, probably Emanuel Snowman of Wartski, or Michel Norman of the Australian Pearl Company. In 1933 acquired by Queen Mary, UK. 1953 inherited by Queen Elizabeth II, UK.
For a zoomable image of this Egg, see the Royal Collection: https://www.royalcollection.org.uk/collection/40098/basket-of-flowers-egg
Update August 2019
Contrary to what I wrote above and what is written in most books about Fabergé Eggs about the invoice and the missing pearls, several Fabergé Egg lovers thought they did see pearls on this Egg. In March, 2019, a group of enthousiasts had the opportunity to see this Egg up close on the exhibition Russia, Royalty & the Romanovs in London and Edinburgh.
All clearly did see pearls, and though it were very small, even miniature pearls, so-called seed pearls, for Fabergé it were absolutely pearls! Compare the invoice for the 1901 companion Egg for the Dowager Empress, 1901 Gatchina Palace Egg and you will see "pearls" noted, while looking a the Egg itself, the pearls are not much bigger.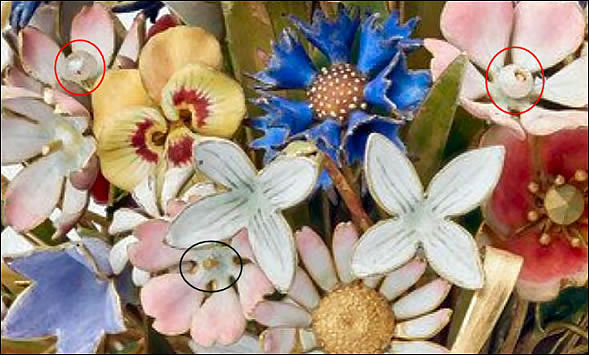 Printscreen Egg detail website Royal Collection
Above an enlargement of a detail of the Egg with in the two red circles the little pearls, and in the black circle a sort of prong, where most likely earlier another pearl was mounted. Pearls however are very delicate and these small seed pearls probably did not stand the turmoil of the Revolution nor the test of time. Some however are still clearly visible.
Mystery solved! With thanks to Nancy, Greg and Juan!
I like to point out that fellow Fabergé enthousiast Juan did his own research on these pearls. As soon as his research is published, I will post the link here, and here you are:

Fabergé Basket of Flowers Egg: Mystery of pearls unveiled By Juan F. Déniz (Gran Canaria, Canary Islands) https://www.academia.edu/40161232/Faberg%C3%A9_Basket_of_Flowers_Egg_Mystery_of_pearls_unveiled
or download the .pfd file here.

1902 Von Dervis Fabergé Exhibition in Saint Petersburg, Russia

Next Egg

Previous Egg
Page Updated: August 25, 2019