Gift Nicholas II to Maria Feodorovna
Made in Saint Petersburg
Lost/missing
The 1902 Empire Nephrite Egg, also known as Alexander III Medallion Egg unfortunately is one of the missing Eggs. The Egg was probably made of nephrite, gold, diamonds and possibly watercolor on ivory or mother of pearl.
Thought to have been made of nephrite in the Empire style with a golden base and decorated with diamonds and a medallion portrait of the late tsar Alexander III.
Background information
It is possible that the surprise from the Alexander III Medallion Egg was exhibited in Belgrave Square, London in 1935. The exhibition catalog mentions a "miniature of Alexander III by Zehngraf in a nephrite frame, lent by Her Imperial Highness the Grand Duchess Xenia of Russia". Unfortunately no images are known.
Updates 2004 - 2018
A 2004 publication in Russian and English entitled, The 1902 Empire Nephrite Easter Egg by Fabergé, edited by Alexander von Solodkoff, suggested this Egg could have been found, however, the majority of Fabergé scholars did not accept this theory.
A discovery revealed in May 2015 by Russian researcher Tatiana Muntian, of a description of an egg in a list drawn by the entourage of Dowager Empress Maria Feodorovna of her personal belongings from the Gatchina Palace in July 1917, re-heated the discussion on this Egg. Could "Egg in gold mount on two columns from nephrite, inside portraits Grand Duchess Olga Alexandrovna and Prince P.A. Oldenburg" really be an Imperial Easter Egg?
The team who researched this egg thinks it is. They wrote a book: Fabergé: The Imperial "Empire" Egg of 1902, 2017 (Fabergé Tatiana F., et al).
But again, opinions are divided. No doubt, to be continued!
---
The Dowager Empress liked eggs as we can see from the photo below. The photo was taken between 1914 and 1916 and you can clearly see several (non Imperial) eggs on the left of her desk.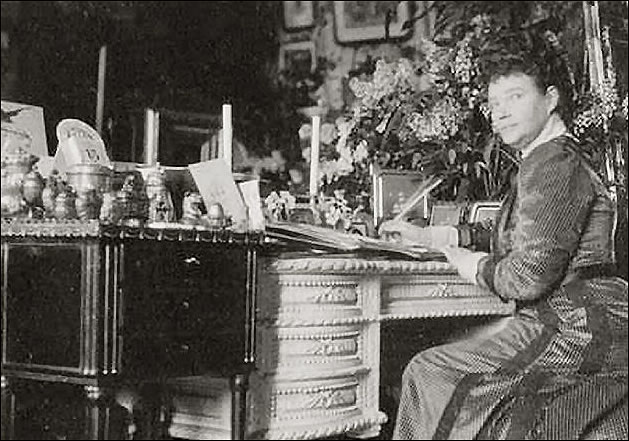 The Dowager Empress at her desk - Photo 1914-1916 - Source: GARF
aw June 2018
Update August 2019
There seems to be no consensus among the world's leading specialists on the works of Carl Fabergé so I will list this egg as being disputed. Result of this, the number of missing Eggs is disputed too, now being either seven or six. For those who would like to see the disputed egg, go here and here.
As far as I am concerned, there are still seven Eggs missing.
Update July 2020
Here below I have for you links to articles where you can read about the egg in question:

. On Wikipedia - Empire Nephrite (Fabergé egg): https://en.wikipedia.org/wiki/Empire_Nephrite_(Faberg%C3%A9_egg)(Retrieved July 16, 2020)

. Article by Andre Ruzhnikov, Russian born international art dealer - A Fabergé Farrago of Fakes and Impostors: https://www.ruzhnikov.com/a-faberge-farrago-of-fakes-and-impostors/ (July 16, 2020)
. And courtesy Dmitry Krivoshey: The link to the paper about the egg - https://academia.edu/resource/work/38098288 - Fabergé: The Imperial "Empire" Egg of 1902. New York, 2017. (Retrieved July 17, 2020).
October 2020:
Andre Rushnikov has a little more to tell ao after reading a Grand Duchess Olga biography: To All Fabergé Fans of White Elephants - Followup by Andre Ruzhnikov on the 1902 egg

Next Egg

Previous Egg
Page updated: Oktober 19, 2020