When in late 2018 at the New Jerusalem Museum near Moscow, an egg was presented as the 1904 Imperial Easter Egg, I quickly dismissed it. The egg did not look Fabergé to me and I found that at least one of the miniatures was from a later time than the egg was supposed to be. The then-exhibition was titled "Fabergé Style. Excellence Beyond Time" and indeed, to me the egg was Fabergé style, and nothing more.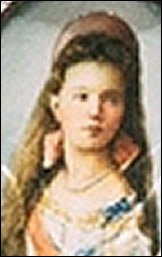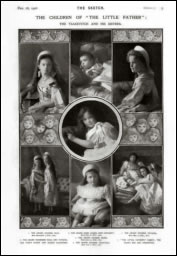 Above the Grand Duchess Olga as depicted on the egg (screencap), middle, photographed at the day her little brother the tsarevich was christened, 11 (24 N.S) August, 1904, and right, article about the christening in The Sketch, dated Feb. 28, 1906. See also this article compiled by Helen Azar.
That was it for me. I told some people about it but did not want to give it any more attention.
However, when the same egg was being presented at an exhibition at the famous State Hermitage in Saint Petersburg, Russia, as being an Imperial Fabergé Egg, I decided to do write about it. As you know from my pages about "Fabergé in the 21st century", there is nothing wrong with Fabergé style, as long as it is not presented as the real deal! But when it is the other way around, that is very wrong!
While working on this page, I received an email from Andre Ruzhnikov, Russian born international art dealer, who we know from - A Fabergé Farrago of Fakes and Impostors.
Mr. Ruzhnikov had already done extensive research on the Hermitage exhibition and wrote an open letter on January 13, 2021 to Director of the Hermitage Museum, Mikhail Piotrovsky, titled Forgeries In The Hermitage. An Open Letter to Mikhail Piotrovsky. This letter was followed up by a January 22, 2021 article Forgeries In The Hermitage. 'Wedding Anniversary Egg'.
As there is no way I can surpass Mr. Ruzhnikov's research, I made copies of his research and present you with the links so you can go there yourself. Excellent work!
Here is more for you to read. Article by Artned: In an Explosive Claim, a Top Art Dealer Says a Hermitage Museum Fabergé Show Is Full of 'Tawdry Fakes' From a Single Russian Oligarch's Collection
And here is a rebuttel from the owner of the egg and Mr. Ruzhnikov's answer to it: https://www.ruzhnikov.com/response-to-ivanov/
And her is UK The Guardian on Febr. 1, 2021: Russian Fabergé exhibition contains 'at least 20 fakes', expert says - Andre Ruzhnikov accuses director Mikhail Piotrovsky of 'destroying the authority of the museum'
aw
30 January 2021
Februari 4, 2021: This egg has a surprise. Surprise!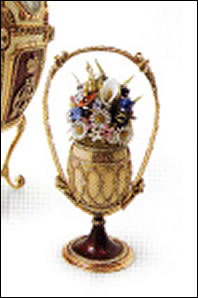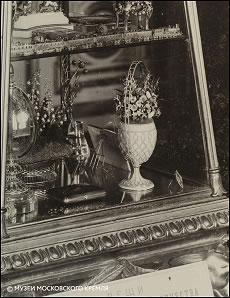 Left, Exhibition catalog, page 50, (courtesy Ruzhnikov.com) and the Imperial 1901 Flower Basket Fabergé Egg photographed at the 1902 Von Dervis Exhibition in Sant Petersburg.
February 12, 2021. The Hermitage informs. Read article.
February 15: BBC article based on interviews with a.o. several Fabergé scholars. Original in Russian: Роковые яйца. История скандальной выставки Фаберже в Эрмитаже и тех, кто за ней стоит.
Same article in English using Google translate: Fatal eggs. The history of the scandalous exhibition of Faberge in the Hermitage and those behind it.
To be continued, undoubtedly!
Corrected or updated: Februari 15, 2021