Fabergé in the 21st century - page 2
Fabergé History Timeline 1918 - 1937 | The Family Fabergé - The Four Sons
Fabergé Today (1937 - 2006) | The Family Fabergé Today - Tatiana - Theo and Sarah Fabergé | Brand name Fabergé
Inspired by Fabergé The Vivian Alexander Collection™ | Objects worldwide inspired by Fabergé
The Fabergé Family Today (continued from page 1)
Theo Fabergé and Sarah Fabergé
Because he was born out of wedlock to his young mother, his married aunt brought up Theo. He did not know his true origin or his name until later in life, since he was never adopted. In World War II he served in the Royal Air Force, principally in Egypt. It was only in 1961 that he discovered his true identity, while establishing himself in business.
| | |
| --- | --- |
| | |
| Young Theo Fabergé with his mother (left) and aunt | Theo Fabergé |
From an early age on Theo Fabergé had a passion for making objects of high standards. A fascination with the natural beauties of wood led Theo to explore the techniques of ornamental turning, the art of deep-cut engraving and sculpting woods, ivories and metals using precision lathes. He restored a Holtzappfel lathe dating from 1861, and in the 1950's began to design and make elegant objets d'art from rare wood and ivory, for pleasure and then as commissions.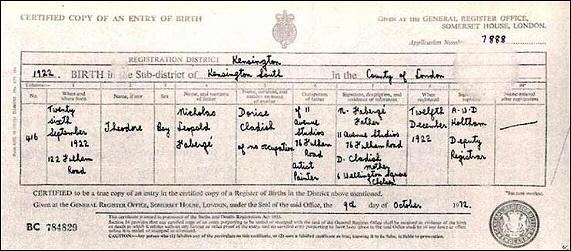 A copy of the birth certificate of Theo Fabergé
Theo soon began to receive commissions from notable collectors of Karl Fabergé, and from museums such as the Virginia Museum of Fine Arts, USA. In 1984 Theo was persuaded to produce a new collection to be sold on the international market incorporating precious metals. The St. Petersburg Collection was launched to the public in 1985 at Marshall Fields in Chicago.
The Collection is now shown in major outlets throughout the world. Eminent museums such as the State Hermitage Museum, the San Diego Museum of Art and the St. Petersburg City Museum have added Theo Fabergé's creations to their collections. Each creation is a Limited Edition of as little as 6 pieces worldwide. Theo died in his sleep on Monday August 20, 2007.
Objects made by Theo Fabergé
Theo Fabergé's daughter, Sarah Fabergé launched her first designs for the St. Petersburg Collection in 1994. While encouraging his daughter, Theo has never pressured her to follow in his footsteps. However, the birth of her son in the late 1980's encouraged Sarah to take stock of her life and goals, and most important, to explore her own creativity. Sarah's creations are different from her father's in style. The feminine influence can be seen in the delicacy of her work and in her love of the baroque style. The humour remains, evidenced by the tiny snail sleeping under the delicate petals of the primrose within the Spring Egg. None of the designs by Theo Fabergé or Sarah Fabergé are copies of their (great) grandfather's creations.
Sarah Fabergé with Eggs and a watch of the St. Petersburg Collection
Theo and Sarah designed and created exclusively for the St. Petersburg Collection.

To read more on Theo Fabergé and Sarah Fabergé and to see their creations, go to their website. Click the images above or click here!

Images St. Petersburg Collection courtesy Gemini Management NV.
October 2007 Sarah Fabergé, like her cousin Tatiana Fabergé joined the Pallinghurst's group Fabergé Ltd.

Brand name Fabergé
Update September 2009: "Fabergé launches first new jewellery collection since the Russian Revolution". Brandname owner Pallinghurst finally presents its Fabergé collection. For the official website, go to www.faberge.com.
October 24, 2007 (Source Bloomberg.com)
--- Oct. 24 (Bloomberg) -- Pallinghurst Resources LLP, a London- based mining investment group, said it will lead a group of investors prepared to spend as much as $450 million to develop a colored gemstone and luxury-goods business under the Faberge brand.
In 2006, Pallinghurst set up Cayman Island-based Faberge Ltd., which in January purchased the Faberge brand from Unilever Plc, the consumer-goods company based in both London and Rotterdam. Neither company revealed the amount involved in the agreement. Unilever had used Faberge to market toiletries, such as deodorants ....
Read more: http://www.bloomberg.com/apps/news?pid=20601088&refer=muse&sid=aUCUQlQRhqHY
* June 2007: On the website of Pallinghurst Resources:
Acquisition of the Fabergé brand from Unilever
03 January 2007 – Pallinghurst Resources LLP announce completion of a